Tuesday, July 29th, 2008
I have written about "Double Take Advertising" (previously, previously). A friend of mine recently snapped this image, which, as far as I am concerned, is a sub genre: "Double Take WTF? Advertising".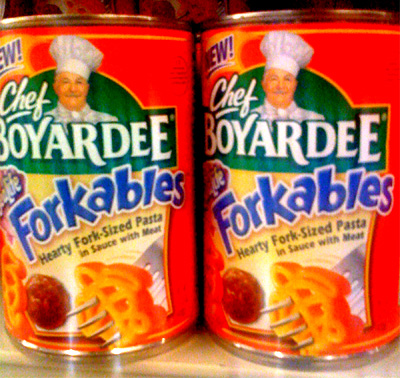 The distinction is subtle; each triggers a double take, but in the latter case, one cannot help but wonder, "WTF?"
I am beginning to suspect that the deep thinkers responsible for this sort of packaging are banking on consumers taking two looks at it, then saying to themselves, "I have got to show this to the [wife|guys at the office|therapist]," thus securing a sale not based on the desirability of the can's contents, but its humor value. These marketeers have not thought their cunning plan all the way through, however. They did not take into account: a) camera phones, or b) that this market has already been cornered by Mad magazine (Acrobat pdf, page 4).
---